Merry Christmas guys! I know it's way too late to say this, by the time I post this, it's already 29 December. But Merry Christmas nonetheless, I hope you're enjoying your holiday with your beloved family and friends.
John Green is one of my favorite authors, but I never plan to buy this book because I don't usually enjoy reading books that have more than one author. However, I did want to read this because John Green wrote one of the stories in this book. So, when I found this book at the town library, imagine how ecstatic I was! Since I mentioned that I will write a book review of Let It Snow in my
last post
, here it is!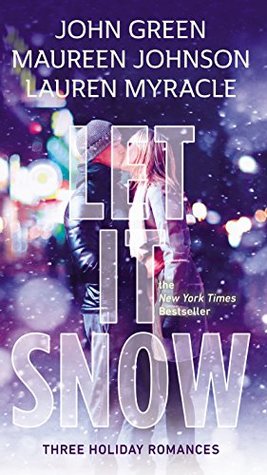 Genre: Romance, Young Adult, Contemporary, Holiday (Christmas)
Pages: 365
Goodreads rating: 3.85/5
My rating: 4.05/5
Synopsis
Sparkling white snowdrifts, beautiful presents wrapped in ribbons, and multicolored lights glittering in the night through the falling snow. A Christmas Eve snowstorm transforms one small town into a romantic haven, the kind you see only in movies. Well, kinda. After all, a cold and wet hike from a stranded train through the middle of nowhere would not normally end with a delicious kiss from a charming stranger. And no one would think that a trip to the Waffle House through four feet of snow would lead to love with an old friend. Or that the way back to true love begins with a painfully early morning shift at Starbucks. Thanks to three of today's bestselling teen authors—John Green, Maureen Johnson, and Lauren Myracle—the magic of the holidays shines on these hilarious and charming interconnected tales of love, romance, and breathtaking kisses. (source: Goodreads)
My Review
This book really suits my mood and my surrounding! In December, it rains so often in Ranau, especially where I live (I live on a mountain lol not lol), it's so cold. It feels like I'm living in Seattle sometimes. This book is perfect to curl up with when it's cold outside and when you're feeling the Christmas vibe.
So basically this book contains 3 stories which are The Jubilee Express, A Cheertastic Christmas Miracle and The Patron Saint of Pigs.
The Jubilee Express - Maureen Johnson
Let me treat you with the first paragraph of this story:
Before I take you into the beating heart of the story, let's get one thing out of the way. I know from experience that when it comes up later, it will distract you so much that you won't be able to concentrate on anything else I will tell you. My name is Jubilee Dougal. Take a moment and let it sink in.
This book has a good first impression. From this paragraph, I knew that this story will have me laughing, not just because her name is Jubilee, but because even from this paragraph, she already made me smile. Out of the 3 stories, this is my favorite. Even after I finished reading this story, I still smile like a crazy person because it has so much effects on me.
I love Jubilee's witty personality, and I love Maureen Johnson's writing. It is really fun and easy to read and now I'm rooting for another book of hers!💕 And the ending had me laughing so much and smiling to my ears, it is so sweet 😆

*this shows how cheesy I am*.

I really enjoyed the way Jubilee and Stuart getting to know each other and starting to fall in love. I don't really believe in love at the first sight, but I know the chemistry between Jubilee and Stuart is real.
My rating for this story: 4.8/5 (I'm too rate-stingy to give it the full rating)
A Cheertastic Christmas Miracle - John Green
It wasn't as good as I expected, but it's good nonetheless.
As I expected, John Green's story from this book will contain an adventure, and it really does. From the beginning to the end, it's full of adventure. It also contains one of the messages that majority of John Green's books contain: You only live once. And I think that's what makes this story is so enjoyable. The other thing that I really enjoy from this story is the friendship of Tobin, the Duke and JP, of course. I really love a good friendship in a story.
Sneak peak:
-There is always a risk: something is good and good and good and good, and then all at once it gets awkward. (the part after this made me laugh so hard)
-I always had this idea that you should never give up a happy middle in the hopes of happy ending. Because there's no such thing as a happy ending.
and my fav
-We just did an awesome job of not dying. (I don't know why this is my favorite, maybe because this is me after doing something that I'm scared to do.)
When I started reading this book, I thought the Duke was a boy. Turned out, I was wrong, it's just
her
nickname. This is just um, kind of a mental note for the people who wanted to read this. This book had me laughing, not as much as how I did when I read The Jubilee Express, but there are some parts that make me laugh so hard.
My rating of this story: 3.75/5
The Patron Saint of Pigs - Lauren Myracle
My least favorite. I don't hate it but I love it enough to finish it. One of the things that I enjoyed when I was reading this book is that this story had a lot of parts that can be made as a quote.
My favorite quotes of this story:
-We are all flawed, my dear. Every one of us. And believe me, we've all made mistakes. You've just got to take a good hard look at yourself, change what's need to be changed, and move, pet.
-Christmas is never over, unless you want it to be... Christmas is a state of mind.
-Sometimes when we forget to do things for others, it's because we're too wrapped up in our own problems.
A lot of reviews that I read said that they don't really like the lead character. I can't really say that. I don't hate her and I don't love her too much, but what I love about her is that she tries to prove that she isn't what people think of her, and that reminds me of me. I have that struggle too, people give me some bad reputations based on my past, and it's really hard for me to prove to them that I've changed.
My rating of this story: 3.6/5
Overall, this book is sweet, fun, full of humor, heartwarming, it's perfect for you who want to add the Christmas vibe or anyone who enjoys good love story without feeling any frustration.