Hello. It has been a long time since I posted, so I figured I might as well type something down to post to avoid my blog being so
dusty
. It's dusty enough because I haven't blog-walk at all for weeks. Maybe I did visit some of my
must-visit-everyday
blogs once in every 2 weeks but I didn't leave any comment or trace because I was just too busy. Huh. The
courtesy
of being a high school student.
Books play a huge part in my growing up. The books I read change a lot of how I see the world, how I see people, how I treat people, how I see myself, or simply said, everything. I thank these books for existing because if not because of these books, I might not be into reading as I am right now. I should also thank my town library for having these books.
Most of the books I include in this list are the books I read during my secondary school years because they are the books that got me really really into reading.
1. 10 Things I Hate About Me - Randa Abdel Fattah
Fun fact: I snuck this out from someone else's (a very close someone else) house just to read it. I didn't steal it, I already put it back where it belonged. I was to embarrassed to borrow this book because I already borrowed a lot of comics from the owner and I snuck this out when I borrowed some books. The cover of the book that I read wasn't like the cover above, tho. I read this when I was 11 and it took me quite long to finish this book because back then I wasn't really good in English.
What this book is about:
It

is about Jamie, a teenage girl from Sydney's south west who lives two lives: at school and in the outside world she is 'Jamie', a bottle-blonde with an apparently Anglo Aussie background; at home she is 'Jamilah' a Lebanese-Muslim who is proud of her cultural identity. Jamie struggles to maintain her two personas as the rules of her over-protective father collide with the normal adolescence she perceives other teenagers to have and which she so desires.

(source: goodreads)
I didn't give this book 5 stars, it wasn't the best book I've ever read, but it was the first book, that is in English and more than 100 pages I read in my whole life. I guess I owed this book this much.
2. The Perks of Being a Wallflower - Stephen Chbosky
This book is amazing.
I read this when I was 14, and it changed my life and how I see things. I saw a lot of good reviews of this book, so when I found this in the town library (after years not going there), I renewed my library card and borrowed this. Even until now, this book is one of the books I borrow so often from the library because I love it. It is very dear to my heart and I've been wanting to have my own copy of this book for so long now.
What this book is about:
Charlie is a freshman.
And while he's not the biggest geek in the school, he is by no means popular. Shy, introspective, intelligent beyond his years yet socially awkward, he is a wallflower, caught between trying to live his life and trying to run from it.
Charlie is attempting to navigate his way through uncharted territory: the world of first dates and mix tapes, family dramas and new friends; the world of sex, drugs, and
The Rocky Horror Picture Show
, when all one requires is that perfect song on that perfect drive to feel infinite. But he can't stay on the sideline forever. Standing on the fringes of life offers a unique perspective. But there comes a time to see what it looks like from the dance floor. (source: goodreads)
3. How To Fall In Love - Cecelia Ahern
Basically, every books that are in this post are the books that available in my town library and the books are really limited. There are a lot of books, a lot of interesting books, but for me they aren't enough. Hence, the first book of Cecelia Ahern I read was How To Fall In Love. Ever since I read this book, I fell in love with her writing. I read this in November 2015, while I was 'camping' at Imbak Canyon. While I was reading this book, I couldn't get my eyes off this book, because it was really good.
The book contains some quotes that I really love, but my favorite one was:
"Where would we be without tomorrows? What we'd have instead are todays. And if that was the case, with you, I'd hope for the longest day for today. I'd fill today with you, doing everything I've ever loved. I'd laugh, I'd talk, I'd listen and learn, I'd love, I'd love, I'd love. I'd make every day today and spend them all with you, and I'd never worry about tomorrow, when I wouldn't be with you. And when that dreaded tomorrow comes for us, please know that I didn't want to leave you, or be left behind, that every single moment spent with you were the best times in my life."

4. The Strange and Beautiful Sorrows of Ava Lavender - Leslye Walton
This book was bizarre, beautifully written and very interesting. I'm serious. I couldn't get off this book because every words, every lines, every chapters, left me wanting more and feeling curious about what's next. This book also open a new door in the reading world I just knew back then, since it introduced me to a new genre than just sci-fi, contemporary or romance. I know magical realism from this book and I'm glad that I've been given a chance to know the genre.
What this book is about: Foolish love appears to be the Roux family birthright, an ominous forecast for its most recent progeny, Ava Lavender. Ava—in all other ways a normal girl—is born with the wings of a bird.

In a quest to understand her peculiar disposition and a growing desire to fit in with her peers, sixteen-year old Ava ventures into the wider world, ill-prepared for what she might discover and naïve to the twisted motives of others. Others like the pious Nathaniel Sorrows, who mistakes Ava for an angel and whose obsession with her grows until the night of the Summer Solstice celebration. (source:
goodreads
)
5. Just One Day - Gayle Forman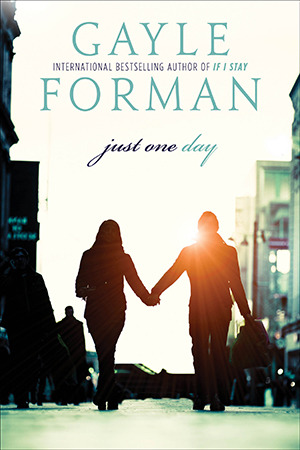 Just One Day is one of my absolute favorites. Not just my love towards Europe started when I read this book, but also towards Shakespeare's works. Before this book, obviously, I was only interested on Shakespeare's famous masterpiece, Romeo and Juliet. Forgive me, Shakespeare, for I have sinned. I don't even like it that much, since it was too lovey dovey. Plus, I'm not a strong believer of love at the first sight. After I read this book, I started to look forward for Shakespeare's other masterpieces. It was a torture to read the plays, I suddenly become illiterate when I touch his pieces.
What this book is about:
Allyson Healey's life is exactly like her suitcase—packed, planned, ordered. Then on the last day of her three-week post-graduation European tour, she meets Willem. A free-spirited, roving actor, Willem is everything she's not, and when he invites her to abandon her plans and come to Paris with him, Allyson says yes. This uncharacteristic decision leads to a day of risk and romance, liberation and intimacy: 24 hours that will transform Allyson's life. (source:
goodreads
)
Fin. The end. I probably will post another entry next year. Thank you for staying with me until the end. Goodbye.
Assalamualaikum.
Love,
Pypaa. xoxoxoox